Registrations for the EMBL Australia Postgraduate Symposium are open.

Early bird tickets on sale until 1 July 2023.
The 10th annual EAPS will be held at Garvan Institute from 1-3 November. 
This year, EAPS 2023 is 'moving forward through collaboration'! EAPS 2023 is all about highlighting (and facilitating) projects that celebrate and demonstrate collaboration in science. Our exciting interdisciplinary sessions such as 'where science meets art' and 'solving the problems of tomorrow' will bring together research and scientists from a variety of fields within molecular biology. Who knows – maybe you'll even meet your next collaborator!
Visit EAPS.ORG.AU to learn more, and register! 
Registration closes: 27th October  2023
Abstract submission deadline: 12 October 2023
Registration details:
Early bird registrations (including conference dinner) (before 1st of July): $100.00
Standard registration (including conference dinner): $150.00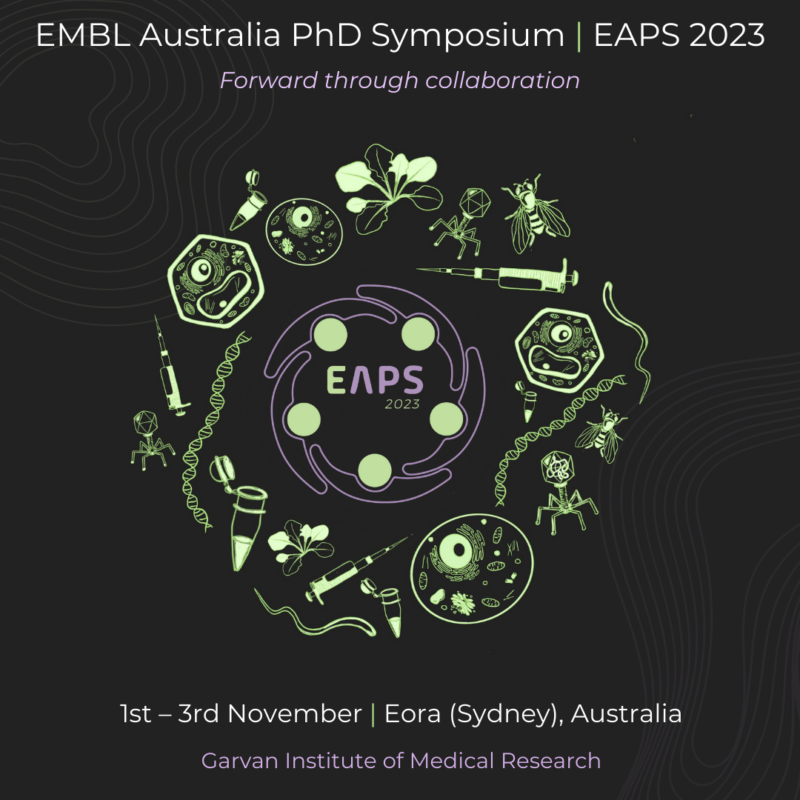 The organising committee is composed of volunteer PhD students from across the country, and across a variety of research disciplines. This year's committee:
Kevin Lu, Chair, Monash University
Bonnie Werner, Secretary, University of New South Whales
Dilys Lam, Secretary, University of Western Australia
Kanika Mehta, Secretary
Ibraheem Nasir, Marketing, Peter Mac
Rebecca Degnan, Marketing, University of Queensland
Nathaniel Napoli, Marketing, University of South Australia
Goris Guo, Marketing
AJ Sethi, Treasurer, Australian National University
Dylan Carter Cusack, Treasurer, University of Queensland
Michelle Devadason, Treasurer & Logistics, University of New South Whales
Antonia Cadell, Logistics, Garvan Institute
Helen King, Logistics, Garvan Institute
Kate Gunther, Sponsorship, University of New South Whales
Daniel Reed, Sponsorship, Garvan Institute